We provide a range of learning experiences in a caring and secure environment, where both effort and achievement are encouraged and celebrated.
WE LOVE READING!
Take a look at our reading wall.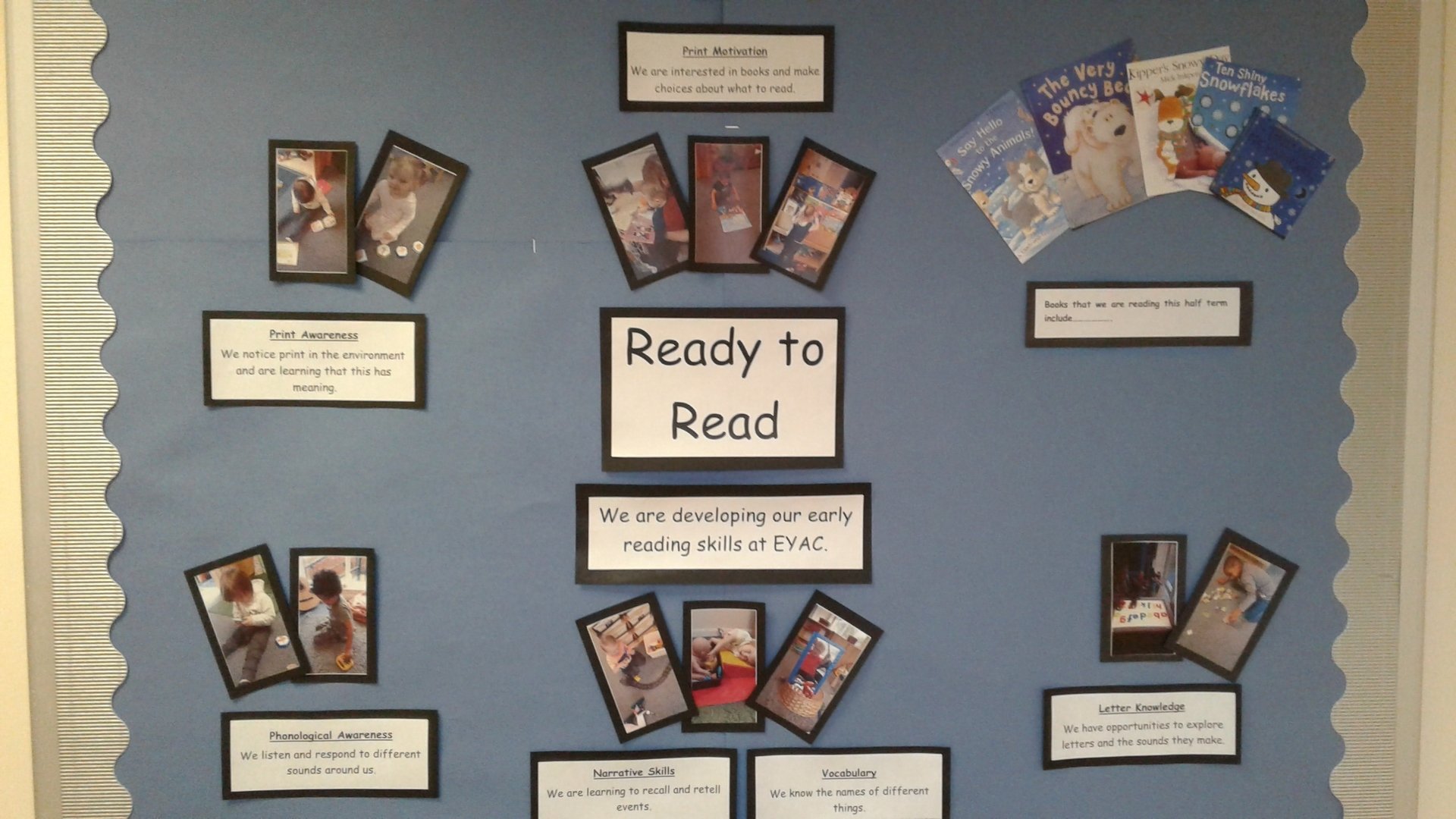 Click on the images below to see what we were up to last half term in our Traditional Tales topic.
We focused on six different traditional tales.
We looked at the stories of 'little Red Riding Hood', ' Goldilocks and the three bears', 'The Enormous Turnip', 'The Gingerbread Man', 'The Three Little Pigs' and 'Jack and the Beanstalk'.
"Since starting at EYAC our little man has been very well looked after, we are very pleased with the progression he has made and could not thank staff enough especially Cathy for all the support we receive."
"X's experience at EYAC has been phenomenal. She absolutely loves it and her development has come on in leaps and bounds. She has started to make sounds, is calmer in certain situations and is making better eye contact. The relationships she has developed with staff members is a credit to how fantastic you all are at your job, because our little girl wouldn't have been able to thrive the way she has without you all. Cathy has led the way in helping us with X, she is always at the other end of a phone or email to support us as a family and is so honest, caring and amazing at what she does. She just knows X through and through and this has made us feel so safe in ensuring we leave her with the nursery. I have to mention the support we have had from the parent support advisor who has supported us with referrals, accessing facilities for X and ensuring we are working with the right people to meet her needs. I honestly can't thank everyone enough for all your hard work, patience and dedicated hours you have put into X while she has been with you. We are going to miss all the staff so much and I don't believe you can do anything better. You are all superstars."
"EYAC staff try hard to meet the individual needs of each child. The daily diary is useful but I find the observations more helpful as I can see more as to what worked in the activity, how it was presented etc from them having the pictures alongside."
"I love how much the staff communicate with us and let us know if there is anything wrong. X is making so much progress. Thank you!"